Marketing Agency
Digital Marketing or Online Marketing allows you to leverage Internet advantages and opportunities to promote and position your brand and enforce your business development efficiently.
Although both terms are used and understood equally in most countries, there is a slight difference between digital and online marketing, and that is that online marketing is exclusively based on the Internet, while digital marketing is more comprehensive and contemplates all available digital media.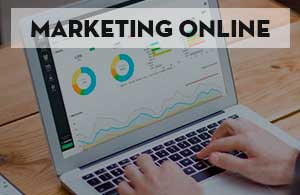 Way2net Digital Agency, knows how to promote your business on Internet to acquire more customers and increase sales.
We develop an integrated marketing plan, with marketing actions based on your company's objectives and needs, with always a results oriented focus.
What is digital marketing?
Digital marketing is the set of strategies or tools that a company or individual uses in the online field to make themselves known, attract new customers and develop their business. It is one of the main ways available for companies to communicate with their target audience in a direct, personalized way and at the right moment.
This type of marketing allows us to reach more people, faster and at lower costs than traditional marketing, at the same time that it allows us to measure the results, almost always in real time, which allows us to make the necessary adjustments and optimizations in based on the results.
Another characteristic of this type of marketing is the degree of segmentation and interaction that it allows, favoring client interaction and allowing to reach different clients with specific communication or advertising pieces.
How to do good digital marketing?
Initial diagnosis or prior consulting: The first thing is to be able to evaluate what is the starting point, the initial situation of the company. Review and make a diagnosis of their online presence, which they have done in the last time and see what resources they have.

Define Strategy or Marketing Plan: Set out the objectives to be achieved and the actions to achieve them. It is also important to analyze budget and available resources at this point.

Start-up and Execution: Depending on how ambitious or not the objectives are set and the internal resources available, you can choose to carry it out internally or with the support or total delegation to an agency specialized in marketing and communication.

Control and Measurement: As important as the definition and implementation, is the control and measurement of the actions we carry out, as far as possible always against specific and measurable objectives (web visits, leads, forms completed, % improvement in the customer service ratio, etc).

Results Evaluation and Adjustments: As every strategy or marketing plan is not something static or eternal in time, we must monitor how the different actions implemented are working in relation to the proposed objectives and continually adjust our plan..
We have different digital marketing services available based on your specific company objectives, and a professional and very talented team, waiting to take care of your next marketing campaign.
Online Marketing Actions.
Customer Acquisition
SEO / SEM
Branding
E-mail Marketing
Online Advertising
Social Media
Press Releases
Affiliate marketing campaigns
Conversion
Landing Pages
Web Development
Web Design
Forms
Content Generation
Usability – Accessibility
E-commerce
Customer Loyalty
Landing Pages
Newsletters
E-mail Marketing
Customer Relationship Management (CRM)
Social Media
Retargeting
Personalization
We are a Google Partner Digital Marketing Agency, that specializes in Digital Strategy and Business Development and know how to make the Internet a valuable resource for your company.