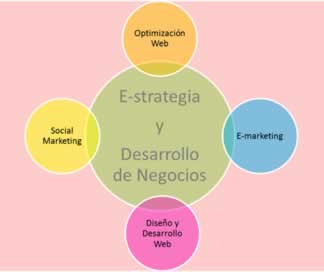 We analyze your business, market and objectives to design the best digital marketing strategy to boost your business with results oriented actions.
As an online marketing agency, we know the latest trends and technology tools and seek to follow the evolution of companies towards new forms of digital communication.

A good Digital Marketing Strategy is based on four pillars: website design, web optimization and search engines positioning, an appropriate plan of digital marketing and a clear social media and positioning strategy.

When we think an online marketing strategy, we focuse in:
Analysis – Planning – Development – Implementation – Results

We perform a comprehensive analysis of market, competitors and product or service.

We plan the best way to digitally develop your company with a clear business vision. Also propose adecuate offline marketing strategies if needed.

We develop different actions and tasks in order to finish the strategic plan.

We implement in a timely manner the various stages planned.


We measure and analize to achieve expected results.
We are a Google Partner Digital Marketing Agency, that specializes in Digital Strategy and Business Development and know how to make the Internet a valuable resource for your company.