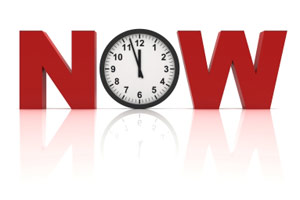 The digital marketing, faithful exponent of real time marketing or marketing in real time, can immediately know the response of consumers and users for various promotional and communication campaigns.
Esta ventaja, además de permitir maximizar y controlar el impacto de nuestras acciones, nos permite responder y actuar en tiempo real justo cuando el cliente o consumidor lo necesitan o requiere de nuestra atención, mejorando asi notablemente la tasa de conversión (+25%).
Sin embargo, estas ventajas son hoy aprovechadas por muy pocas empresas, y la interacción y tiempos de respuesta en este sentido están muy alejados de las expectativas que tienen hoy los clientes.
Para los clientes o usuarios de internet, el medio online es sinónimo de inmediatez. Como muestra la infografía de Monetate, la mayoría de los clientes (+80%) espera una respuesta por parte de la empresa en el plazo máximo de 2 minutos, practicamente en tiempo real. Solo un 20%, está dispuesto a esperar un plazo de 24 horas para recibir una respuesta y considerarlo razonable.
¿Conocen muchas empresas que puedan cumplir con estas expectativas? La respuesta obvia es que no
Las principales dificultades que enfrentan las empresas para responder en tiempo real, según esta infografía serían:
–    41% de las empresas tiene problemas en la unificación de sus bases de datos de los clientes
–    37% alude problemas de falta de cultura organizacional al respecto
–    35% tiene barreras tecnológicas en la implementación de sus estrategia de marketing
–    31% a falta de conocimiento y capacitación
–    24% a falta de presupuesto
¿Cuál es el premio para las empresas que logran responder en tiempo real?
–    84% mejorar la experiencia de los clientes
–    72% mejorar la tasa de conversión
–    47% mejora la relación entre empresa y cliente
Estar presente en tiempo real, cuando el cliente nos necesita, tiene un premio muy importante y al mismo tiempo es un desafío muy grande para la mayoría de las empresas.