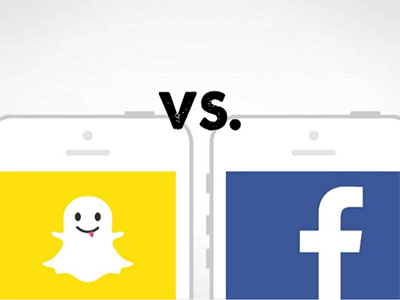 This week Facebook incorporates an animated filters application, called "Masquerade". While it is known that for some time there is tension between Facebook and Snapchat, this news did nothing but intensifying it. The rivalry between these companies part of both fighting for dominance of digital video (the protagonist of 2016) and investment in advertising that this entails.
Since 2012, Facebook has tried to catch up with some of the tools of the fashion social network, and this acquisition leaves the sight of the brutal competition between the two companies.
Facebook: Failed attempts
Snapchat has understood the younger users, known as "millennials", and since 2011, Facebook has tried several times unsuccessfully to imitate some of the most attractive features of his rival.
In 2012 they released "Poke", an application that allowed users to send photos and videos for a limited time, after which they self-destroyed. The application died a year and a half later.

Mark Zuckerberg did not give up, and he tried again in 2014 with another similar app, called "Slingshot". It was not very successful and in December of that year ceased to exist.
The interest Facebook has on Snapchat goes beyond wanting to copy it . Mark tried to buy it twice, but its CEO (Evan Spiegel) refused on both occasions.
Video ambitions 
Facebook says it plans to keep "Masquerade" as a standalone application and at the same time seeks to incorporate selfie effects similar to those of Snapchat, to their own products. On the other hand, as we know the video is the main protagonist of 2016, and it is for this reason that Facebook has begun putting great emphasis on its new addition: "Facebook Live",  an application for live video transmission.
The sense of threat Facebook felt for Snapchat is justified , since both have the same number of daily views on videos, but Snapchat has fewer active users. The main difference between the two is that in Snapchat users have to touch the screen to see the video, while Facebook videos are autoplay.
Snapchat is in the first stage of doing business, ruling advertising in "stories", "discover" or "live", spaces that are attractive to advertisers.
Nick Cicero, CEO of "Delmondo" and Snapchat analytics specialist, says Facebook asked in January about influencers and Snapchat audience. However they did not reach any agreement.
Snapchat is not far behind and decided to fight. The company has hired one of Facebook's publicists, Sriram Krishnan, the founder of "Facebook Audience Network", which places ads on Facebook applications and mobile sites.
How will this rivalry continue? We do not know. We hope that both companies continue  incorporating innovative tools.
Consult our Monthly Community Managment Plan and optimize your results in social networks!