Year 2020 has undoubtedly been an atypical year for everyone and e-commerce in Argentina could not stay on the sidelines. Beyond the difficult economic situation the country is going through, this last year of the Pandemic has resulted in significant growth for online sales.
The year 2020 has been an unprecedented year for Argentines, as well as for the rest of the world. Our lives have changed and our shopping behaviors have changed too. And in a few months, a greater evolution has been achieved than in recent years when talking about companies digital transformation and e-commerce. From our Way2net agency we can attest to this, since all our clients, regardless of the industry, have experienced great growth in their online sales.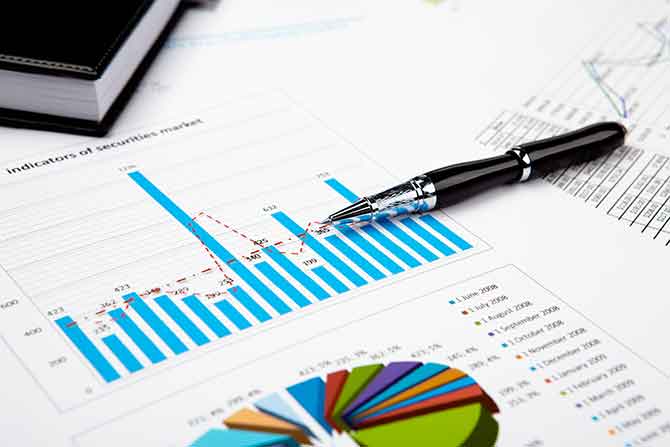 Let's review some indicators that show this:
+58% of people do banking operations online or through the app (48% in 2019)
+48% watch on demand movies (40% in 2019)
+43% order food online (27% in 2019)
+34% buy food and beverages online (18% in 2019)
+1.28 million of online shoppers, for a total of 20.05 million (18.77 million in 2019)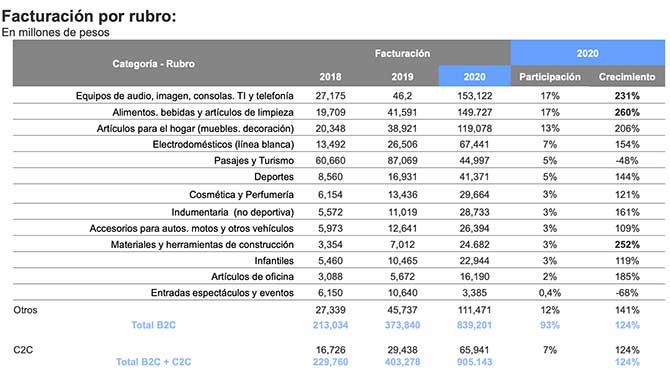 +124% growth in revenue ($ 905 million vs. $ 403 million in 2019)
6 out of 10 buy a product at least once a month. And half of post-pandemic online shoppers are already everyday or regular e-commerce users.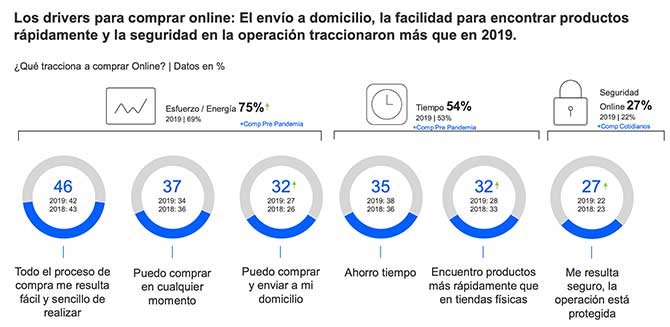 The key factors to buy online: Home delivery, the ease of finding products quickly and the safety of the operation were more powerful than in 2019.
However, not all that glitters is gold, and we can also mention the cons.
Main obstacles for e-commerce development of e-commerce in Argentina
Shipping costs are the main barrier. Although many new players have appeared competing for services and rates, the cost of shipping in Argentina is still high.
Logistics and delivery delays are another factor mentioned.
Another important obstacle for consumers is not being able to see and touch the merchandise. Especially in some areas such as clothing, shoes and others, and especially when the customer does not know the brand that they are buying.

On the business side, we can also mention that as there was greater competition and concentration of online sales, the costs associated with online advertising have also increased.
For some companies, it has also been a problem not to be prepared to face the online world, with a digital strategy already planned and underway.
How is the profile of the online consumer in Argentina?
In 2020 we find a more diversified buyer profile, with post-pandemic buyers entering the ecommerce world buying mobile, while more experienced buyers continue to use more desktop computers.
Another aspect that stands out is the change in the socio-economic profile of online shoppers. We went from the historic high and medium level to a more socio-economic profile in the medium and low segment. It is not that the high segment disappeared, but based on their experience they have expanded the categories that used to bought online, while the lower middle segment is more about a new consumer, who was not used to buying online.
No major changes were observed with respect to the chosen payment method, and credit card is still the main method used.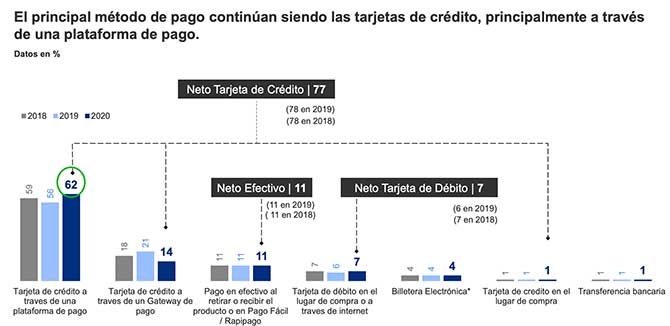 On the other hand, a great change was noticed in the chosen shipping method, as a result of the pandemic, where home delivery was positioned in the first place, displacing the picking in store that had been leading in previous years.
Main industries e-commerce in Argentina 2020
Sportswear, clothing and food and beverages are the TOP3 of the most popular categories among Argentines for this 2020. Food and beverages climbed 7 positions in the year of the pandemic. Then followed closely by Technology and Electro.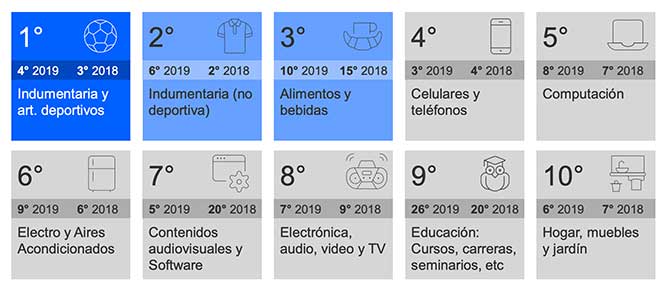 For the first time in many years, COVID-19 has eliminated tourism and entertainment from the ranking of first time purchased categories, giving the place to categories related to food, home conditioning, personal care, courses, careers, seminars, among others.
We will see what awaits us in 2021, but everything suggests that we will have another year where e-commerce development will once again be one of the stars in this adverse economic context
Data Source CACE